Recently, several sets of floating offshore wind power flanges provided by IRAETA to Europe have been delivered. This batch of products will be used in a distributed offshore wind power project in the southwestern waters of Norway.
As the cutting-edge technology of offshore wind power, floating wind power has undoubtedly attracted much attention. It is predicted that nearly 80% of the global offshore wind resource potential is distributed in sea areas above 60 meters, but due to huge costs and technical challenges, even in Europe, there are only a handful of floating wind farms.
The flanges of IRAETA will be used for more than ten 8MW offshore wind turbines. The wind farm is located in the southwestern waters of Norway, 140 kilometers offshore, with a water depth of 260-300 meters. The foundation of the wind turbine is Spar concrete column type. After the completion of the wind farm, it can directly provide electricity to multiple nearby oil and gas platforms, and is expected to help owners reduce 200,000 tons of carbon dioxide and 1,000 tons of nitrogen oxide emissions each year.
The Spar platform is mostly used in deep-sea wind farms

Floating offshore wind turbines float on the sea surface for life, and are in motion all the time due to their flexible fixation. This kind of fan can be regarded as a towering structure with 6 degrees of freedom. In addition to movement in the three directions (X, Y, Z axis) of front and back, left and right, and up and down, it also produces in these three directions Rotating shaking (sweeping, horizontal shaking, heaving).
Shaking places higher quality requirements on floating wind power components
For wind turbines, the loads to be borne include its own gravity, sea breeze, blade rotation, sea waves, underwater ocean currents, mooring cables, etc., and these loads are coupled together with many parameters and large variables, which are difficult to accurately predict.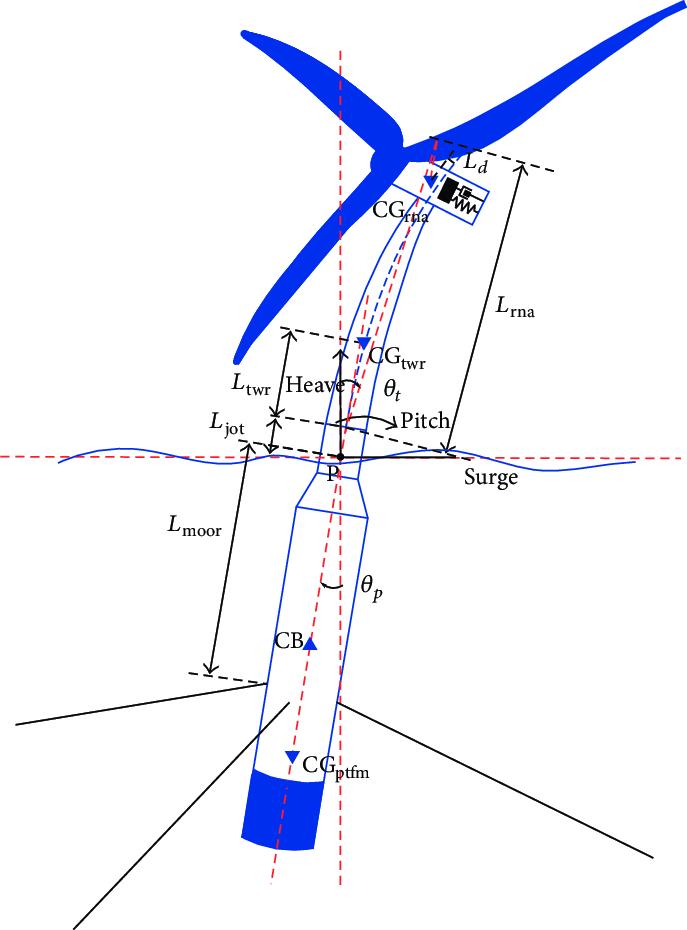 Simulation analysis of floating wind power is very challenging due to many parameters
Because this unstable structure will cause a large swing, the floating wind turbines has higher requirements for all kinds of components in terms of strength and fatigue life.
Take the wind turbine used in this project as an example. The weight of the machine head is more than 500 tons, and the base weight is more than 10,000 tons. The entire tower is like a pole with two ends carrying heavy objects, and the middle is connected by flanges. The project is located in the North Sea waters of Europe. There are frequent storms from November to March of the following year. The sea breeze often reaches 150 kilometers per hour and sets off huge waves of ten meters. This is a great test for the wind field, and the importance of product quality is self-evident.
In order to increase stability and safety, the diameter of the bottom flange of the wind turbines is designed to be close to 8.5 meters, and the flatness is controlled within 0.5mm, which also more precisely ensures the adaptability of the product.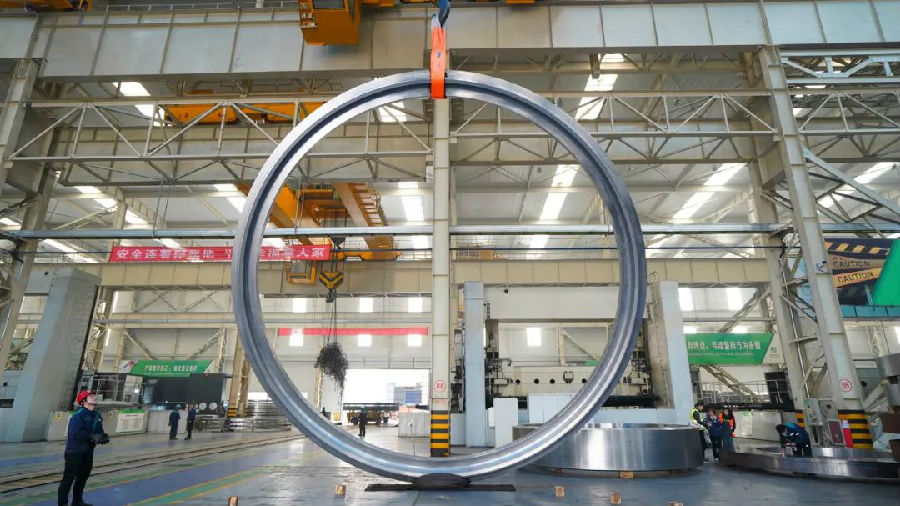 A piece of tower flange in the manufacturing process of this project
About IRAETA
IRAETA is a manufacturing concern that specializes mainly in a diversified range of products within the forgings industry. Our main products include discs, rings, hollows and special-shaped forgings; grinding balls, rods and liners, mainly used in fields such as wind power, nuclear power, UHV, petrochemical, offshore engineering, machinery manufacturing, mining and other fields.
IRAETA now has 1 sales company, 5 business divisions, 7 management centers and 1 overseas factory, covering an area of 350,000 m2 and having over 1,400 employees. For nearly half a century, IRAETA has always been steadfastly devoted to the forging industry. From offshore wind turbines on the Atlantic coast to the oil fields deep in the deserts of the Middle East, to mines in the lofty mountains of Peru, our products have made their mark. Adhering to the values of "honesty, humility, perseverance and work", IRAETA is committed to creating sustainable value for global customers through high-quality products.
We invite you to learn more about IRAETA by visiting our website at www.iraeta.com and following us on our social media channels:
www.linkedin.com/company/iraeta-forgings
www.twitter.com/IraetaForgings
www.facebook.com/iraetaforgings
www.youtube.com/channel/UC4ANlff98ncOZWaEFQN3tzg